.
Timelapse by Myles Zhang
To hear my interview about this jail and exhibit, please listen to this podcast from Pod & Market.
.

Since 1971, the old Essex County Jail has sat abandoned and decaying in Newark's University Heights neighborhood. Expanded in stages since 1837, this jail is among the oldest government structures in Newark and is on the National Register of Historic Places. The building desperately needs investment and a vision for transforming decay into a symbol of urban regeneration. Few structures in this city reflect the history of racial segregation, immigration, and demographic change as well as this jail does.
In spring 2018, a graduate studio at Columbia University's master's in historic preservation program documented this structure. Eleven students and two architects (Bryony Roberts and Belmont Freeman) recorded the jail's condition, context, and history. Each student developed a reuse proposal for a museum, public park, housing, or prisoner re-entry and education center. By proposing eleven alternatives, the project transformed a narrative of confinement into a story of regeneration.
.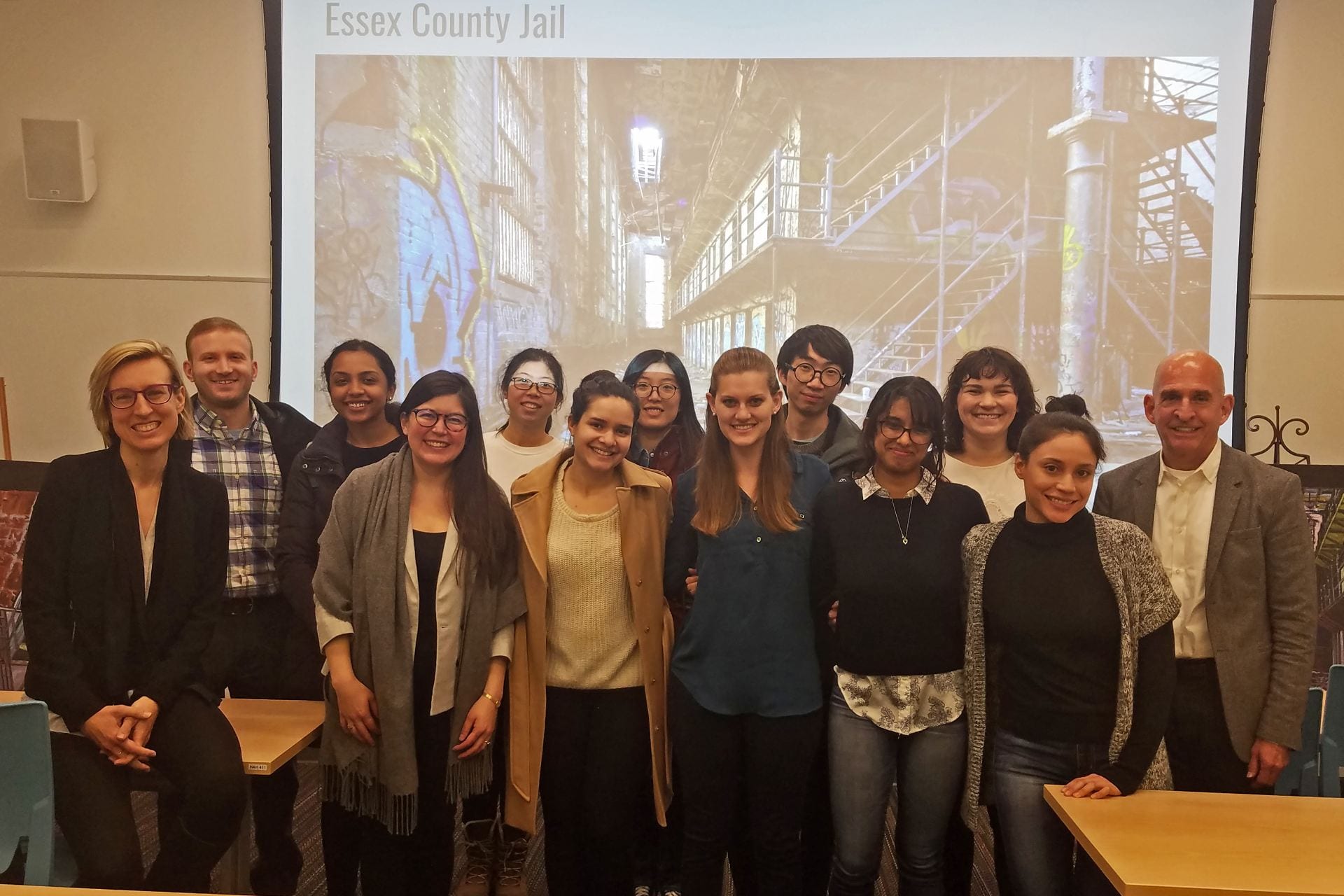 Inspired by this academic project and seeking to share it with a larger audience, Myles Zhang and Zemin Zhang proposed to transform the results of this studio into a larger dialogue about the purpose of incarceration. With $15,000 funding from the Newark Landmarks, we translated Columbia's work into an exhibition. We are grateful to Anne Englot and Liz Del Tufo for their help securing space and funding. Over spring 2019, the curators collaborated with Ellen Quinn and a team at New Jersey City University to design the exhibit panels and to create the corresponding texts and graphics. The opening was held in May 2019, and is recorded here.
Our curator work required translating a strictly academic project into an exhibit with language, graphics, and content accessible to the public. Columbia examined the jail's architecture and produced numerous measured drawings of this site. While some of these drawings and all eleven reuse proposals are included in the exhibit, the focus shifted away from examining the jail as a work of architecture. Instead, I looked at the jail's social history – to use the jail as a tool through which to examine Newark's history of incarceration. As a result, much of our work required supplementing Columbia's content with additional primary sources – newspaper clippings, prison records, and an oral history project – that tell the human story behind these bars.
The finished exhibit was on display from May 15 through September 27, 2019. The exhibit makes the case for preserving the buildings and integrating them into the redevelopment of the surrounding area. The hope is that, by presenting this jail's history in a public space where several thousand people viewed it per week, historians can build support for the jail's reuse. Over the next year, an architecture studio at the New Jersey Institute of Technology's College of Architecture and Design is conducting further site studies. Before any work begins, the next immediate step is to remove all debris, trim destructive foliage, and secure the site from trespassers. These actions will buy time while the city government and the other stakeholders determine the logistics of a full-scale redevelopment effort.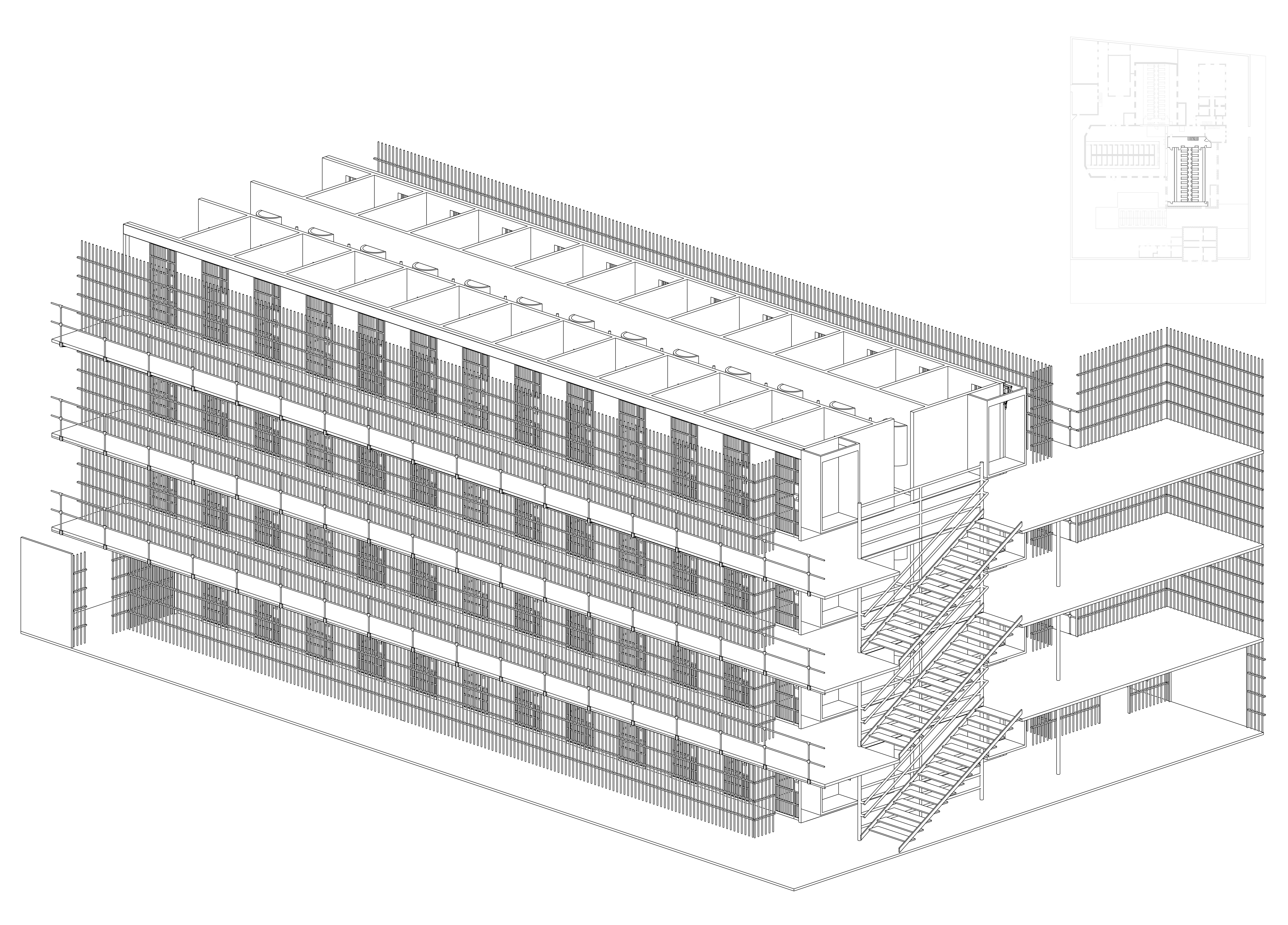 Curated by Myles Zhang
and Zemin Zhang
Link to full credits
Shantal Henry (exhibition designer)
Ellen Quinn (design adviser)
Monica Sarmiento
Yujin Cho
Visual Print Solutions (installation)
.
.
.
PDF file of all exhibit panels opens in new link
.
.
Video soundtrack above from freesound.org
Photos by Myles Zhang